EXHIBITIONS
22.09.2023 – 24.03.2024
15 PLN / 10 PLN, free admission on Thursday
WARSAW UNDER CONSTRUCTION 15: The Cold Days Are Over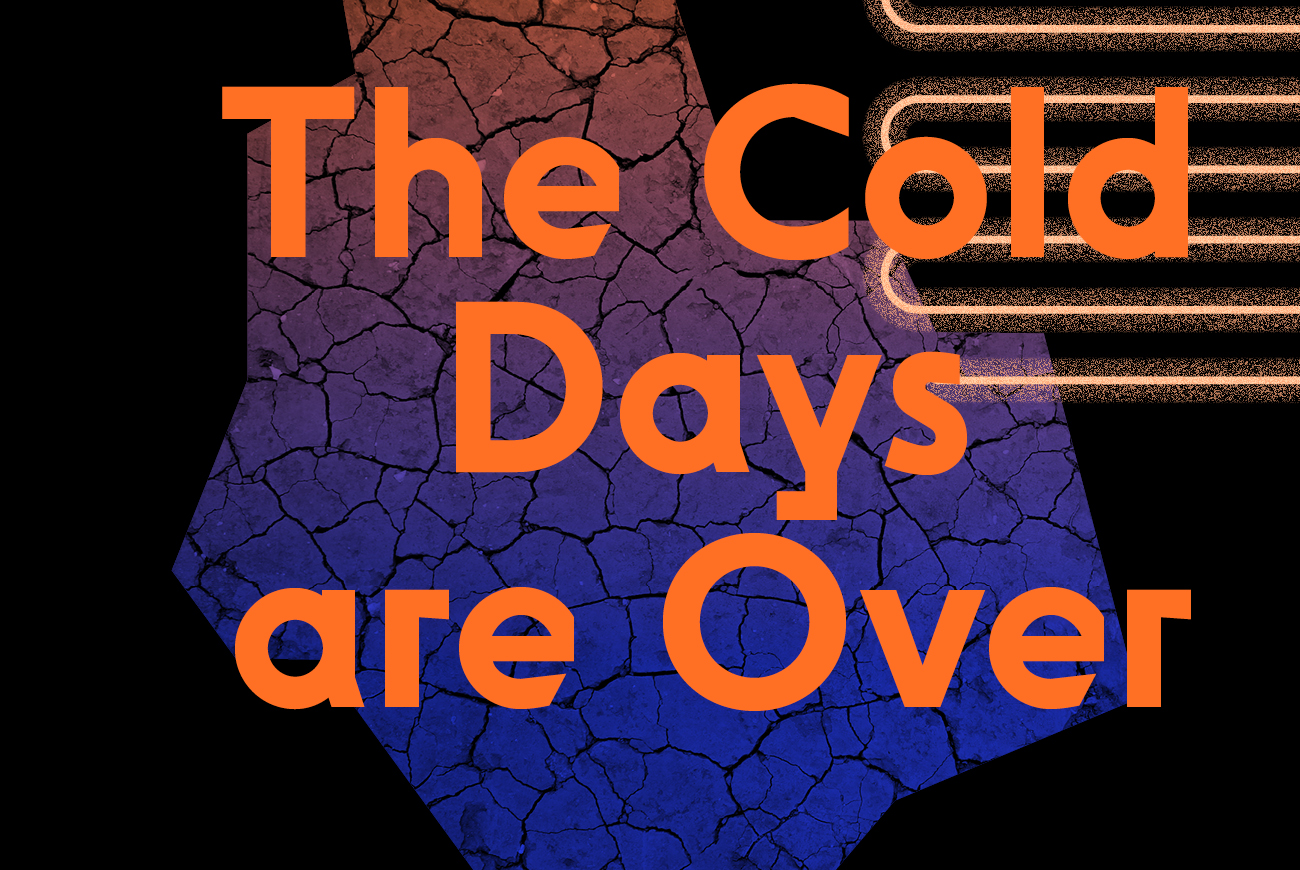 How to survive in a city affected by heat?
The 15th edition of WARSAW UNDER CONSTRUCTION with the theme "The Cold Days Are Over" addresses the issue of rising temperatures, looks at strategies for coping with heat in the city, and talka about our relationship with the Sun, which has gone from fascination to fear.
The last decade of the 20th  century began a period of average annual temperatures exceeding 8°C in Warsaw, which continues to this day. This is a clearly increasing trend. Between 1750 and 2013, the average annual temperature rose almost 2°C. By the end of the century it will be 3.5-5°C. Measurement records, once broken every 10, 20, 30 years, now fall every year.
What kind of transformation – in habits, architectural and urban planning practices – do cities have to undergo due to the thermal crisis?
The Cold Days Are Over
Exhibition: 22.09.2023 – 24.03.2024
Exhibition "The Cold Days Are Over" looks at the development of Warsaw's temperature consciousness and our relationship with the Sun so far. It presents a variety of tools for adapting Warsaw, other cities and their communities to changing conditions and preventing an increase in the scale of the climate and thermal crisis. It covers the topic of life in the heat-stricken city from different perspectives – using scientific research, historical documents and art projects by Polish and foreign artists. Among others, the exhibition includes Olafur Eliasson's 2006 work Eye see you, films by Karolina Breguła and Emanuel Levi, and a photomontage by Kobas Laksa. It also includes paintings by Wojciech Fangor, Ryszard Winiarski and the famous "Dotleniacz" by Joanna Rajkowska.
The architectural concept of the exhibition is the responsibility of the team of Jan Strumiłła, an acclaimeda renowned Polish architect. The arrangement of the space allows the slogan of this year's edition, "It's already been cold," to be felt at first hand. Visitors will be transported to a heat-tormented city – provisionally sheltered by corrugated metal sheets and silver foil, piled with plastic garden chairs.
The WARSAW UNDER CONSTRUCTION Festival
Festival: 22.09.2023 – 22.10.2023
More information about Festival's events.
The exhibition in the Wola Museum of Warsaw will be accompanied by a month-long festival, which will take place since the opening on 22 September 2023 till 22 October 2023. It is a rich program of accompanying events prepared in cooperation with such institutions as the French Institute, the Faculty of Architecture of the Warsaw University of Technology, the Institute of Meteorology and Water Management, the Austrian Cultural Forum, the Museum of the Earth, the Cervantes Institute and the Academy of Fine Arts Faculty of Design.
This year's installment of the festival is organized by the Museum of Warsaw, which has so far collaborated with the Museum of Modern Art on previous editions. Starting this year, WARSAW UNDER CONSTRUCTION will be realized alternately by both institutions.
The WARSAW UNDER CONSTRUCTION Festival was established at the Museum of Modern Art in Warsaw in 2009. It addresses design issues in the broadest possible sense: from industrial design, applied graphics, through architecture and urban planning to social design.
COLOPHON
curators: Wanda Kaczor, Konrad Schiller, Marta Żakowska
content consultants: Michał Chiliński, Dorota Heidrich, Joanna Wieczorek
exhibition design: Jan Strumiłło, Paulina Bukowska
production: Monika Mazurek
graphic design: Hekla Studio
poster design: Anna Światłowska
translation: Justyna Hunia, Karolina Partyga, Aleksandra Sobczak
editing and proofreading: Urszula Drabińska
implementation: Jan Augustin, Ksenia Góreczna, Paweł Grochowalski, Krzysztof Hernik, Piotr Lipiński, Artur Miniewicz, Katarzyna Radecka, Piotr Reszke, Adam Rogowski, Leszek Sokołowski, Mariusz Stawski, Piotr Wójtowicz, Adam Wrzosek, ADWAVE Piotr Kępiński
conservation: Beata Galperyn-Kołodziejska, Piotr Kaczkiełło, Julia Kłosińska, Robert Kołodziejski, Igor Nowak, Piotr Popławski
digitization coordination: Mikołaj Kalina
external loans: Janusz Kurczak
internal loans: Tomasz Lewandowski, Dorota Parszewska, Zuzanna Sieroszewska-Rolewicz, Joanna Rykiel
accessibility: Katarzyna Szafrańska
accompanying events: Wanda Kaczor, Konrad Schiller, Magdalena Staroszczyk, Marta Żakowska, Katarzyna Żukowska
communications and marketing: Joanna Andruszko, Małgorzata Czajkowska, Agata Fijałkowska, Agata Fronczyk, Klaudia Gniady, Julia Golachowska, Daniel Karwowski, Anna Ładna, Jowita Purzycka, Milena Soporowska, Anna Światłowska, Filip Wielechowski-Olszak
loans from institutions and private collections: Biuro Architektury i Planowania Przestrzennego m. st. Warszawy / City of Warsaw Architecture and Spatial Planning Department, Ewa Ludwińska-Chwałczyk, Fundacja Polskiej Sztuki Nowoczesnej / Polish Modern Art Foundation, Fundacja Rodziny Staraków / Starak Family Foundation, Fundacja Sendzimira / Sendzimir Foundation, Centrum Sztuki Współczesnej Zamek U-jazdowski / Ujazdowski Castle Centre for Contemporary Art, FAAB Architektura Białobrzeski / Figurski, Instytut Adama Mickiewicza, Instytut Meteorologii i Gospodarki Wodnej – Państwowy Instytut Badawczy / Institute of Meteorology and Water Management—National Research Institute, Marek Budzyński, Miejskie Przedsiębiorstwo Wodociągów i Kanalizacji w m. st. Warszawie / City of Warsaw Municipal Water Supply and Sewage Company, Narodowe Archiwum Cyfrowe / National Digital Archive, Ośrodek Karta, Regionalny Zarząd Gospodarki Wodnej w Warszawie / Regional Board for Water Management in Warsaw, SRDK Studio, Studio Olafur Eliasson – Berlin, Urząd Miasta Hamburg / Hamburg City Hall, OKRA Landschapsarchitecten
authors: Ewelina Bartosik, Alicja Bielawska, Kacper Borek, Paweł Bownik, Karolina Breguła, Władysław Brzozowski, Centrala (Małgorzata Kuciewicz, Simone De Jacobis), Michał Chiliński, Jan Chwałczyk, Halyna Dudar, Olafur Eliasson, Wojciech Fangor, Edward Hartwig, Inicjatywa Wschód, Tomasz Kaczor, Aleksandra Kędziorek, Bartosz Kokosiński, Katarzyna Krakowiak, Kobas Laksa, Emmanuel Levy, Aleksander Minorski, Magdalena Mosiewicz, Henryk Poddębski, Wojciech Radwański, Joanna Rajkowska, Wacław Saryusz-Wolski, Michał Sapko, Cansu Seyrek Şık, Piotr Sokołowski, Patrycja Stołtny, Lexey Swall, Ryszard Winiarski, Lubomir Winnik, Jarosław Tarań
Projekt Kolejne zagrożenie / Another Threat project: Halyna Dudar oraz Sofiia Avramova, Tereza Balandiukh, Kira Bernatska, Valeriia Bilonenko, Yaroslava Bilonenko, Polina Bondarenko, Sofiia Konopat, Anzhela Melikhova, Yelyzaveyta Oliinyk, Alisa Shevchenko, Illia Shevchenko, Polina Shkliar, Anna Snihurenko, Marharyta Stozhok, Solomiia Tiutko i dzieci biorące udział w działaniach lwowskiej Creative Academy / children engaged in the Lviv-based Creative Academy activities.
main partner: Muzeum Sztuki Nowoczesnej w Warszawie
partners: French Institute, the Faculty of Architecture of the Warsaw University of Technology, the Institute of Meteorology and Water Management, the Austrian Cultural Forum, the Museum of the Earth, the Cervantes Institute and the Academy of Fine Arts Faculty of Design, Bar Studio
patron: EUNIC
media patrons: SZUM, Pismo. Magazyn Opinii, Gazeta Stołeczna Warszawa, TOK FM