Events
Fri, 29.09.2023
19:00–20:30
WARSAW UNDER CONSTRUCTION 15
Syrena Cinema
18PLN/14PLN
Film review: 20ºC/68ºF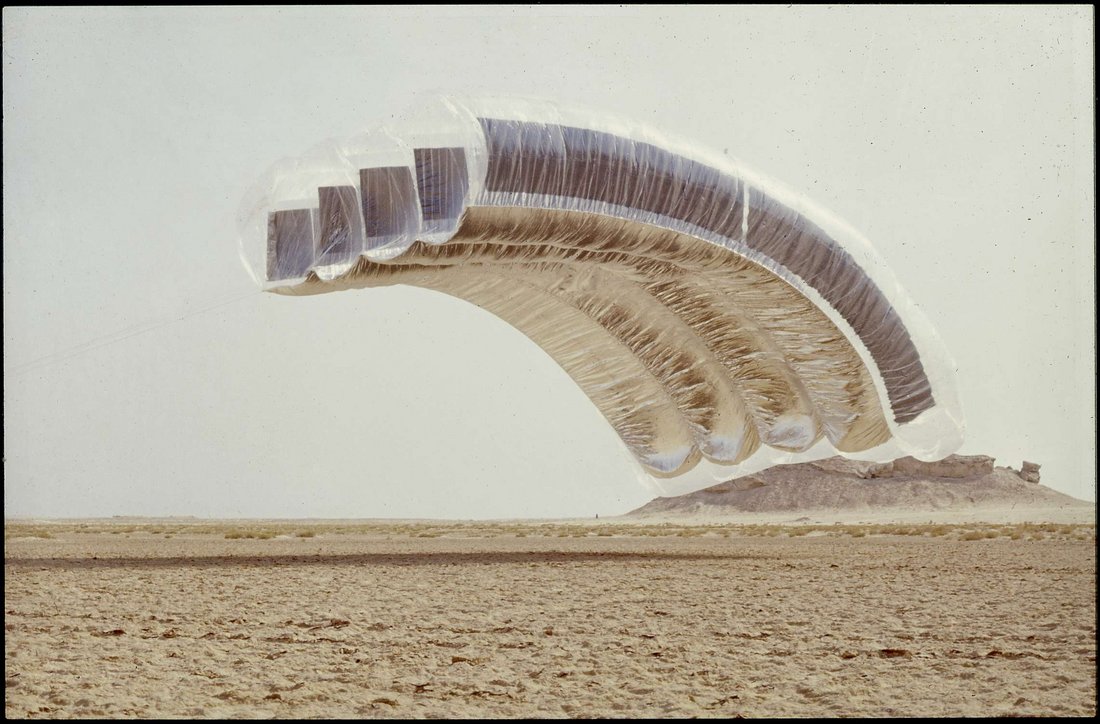 The film review, curated by Jonathan Pouthier, the film program curator at the Musée National d'Art Moderne – Centre Pompidou in Paris, is part of the 15th edition of the WARSAW UNDER CONSTRUCTION festival.
While it appears that the ongoing ecological disaster and its devastating impact on our ecosystems cannot be halted, numerous artists and filmmakers are earnestly questioning the root causes and ramifications of the climate crisis. They are also endeavoring to establish new narratives that offer a different perspective on how we inhabit the world.
From the environmental and architectural utopias conceived by the English artist Graham Stevens during the 1970s in the arid expanses of the Middle East to the portrayal of lost fauna roaming the streets of Brasilia, as scrutinized by the Brazilian filmmaker Ana Vaz, depicting the symptoms of damage wrought by capitalism and colonialism in South America, the three sessions of this screening program delve into the potential of film to craft alternative narratives for an uncertain future.
A curated series of screenings features films created by an impressive lineup of artists, including John Baldessari, Rosa Barba, Yto Barrada, Basim Magdy, Ben Rivers, Clauleen Smith, Graham Stevens, and Ana Vaz.
20ºC/68ºF: GRAHAM STEVENS
British artist Graham Stevens, born in 1944, has transformed the very air into an artistic medium, blending art and science to forge a fundamental component of his environmental utopia. During the 1970s and 1980s, he produced films such as "Atmosfields" (1971), "Desert Cloud" (1974), and "Hajj Walkway Shade Structure" (1983) to both document and champion his transient inflatable structures. Among these, the iconic "Desert Cloud" was filmed amidst the vast desert landscapes of Kuwait.
Occupying the intersection of engineering, architecture, and ecology, Graham Stevens' work wholeheartedly embraces its experimental essence, serving the noble purpose of revitalizing artistic discourse with the environment.
Atmosfields, 1971, 16mm (transfered to digital file), color, sound, 21.24min
Desert Cloud, 1974, 16mm (transfered to digital file), color, sound, 17.17min
Hajj Walkway Shade Structure, 1983, 16mm (transfered to digital file), color, sound, 17 min
Photo: Graham Stevens, Desert Cloud installation view, 1972 © Courtesy of the artist
Jonathan Pouthier is in charge of programming the film collection at the Musée National d'Art Moderne – Centre Pompidou in Paris since 2011. He is the author of numerous articles on the relationship between film and the visual arts, including Objet mental. Film, projection et interférences (in Philippe Decrauzat, Delay, Walther König, 2022), David Claerbout. The Silence of the Lens (Hannibal Books, 2022) and L'histoire d'une histoire du cinéma (Paris Expérimental/Centre Pompidou, 2023, co-edited with Enrico Camporesi). He has curated several exhibitions, including The Site of Film (KANAL-Centre Pompidou Brussels, 2018), Ericka Beckman (KANAL-Centre Pompidou Brussels, 2019), Jean Pierre Bertrand, Diamon'd (Centre Pompidou Paris, 2019) and more recently Le reste est ombre. Pedro Costa, Rui Chafes, Paulo Nozolino (Centre Pompidou, 2022, co-curated by Philippe-Alain Michaud).